Asus NovaGo
This is a flash hands on review to give you the chance to see what the phone is all about as soon as possible. Stay tuned as we'll be expanding and upgrading this review very shortly with more info. 
The Asus NovaGo is future of laptops, even if it looks a lot like other 2-in-1 foldable notebooks on the outside.
It the first 'Always Connected' Gigabit Windows laptop and boasts better than all-day battery life thanks to its Snapdragon 835 chipset and Snapdragon X16 LTE modem.
This means we're now seeing a laptop capable of 1Gbps speeds, which are three to seven times faster than your broadband speeds at home, depending on where you live.
No need to tether with a smartphone, and no need to deal with offline mode in documents as this always-connected Windows machine has a built-in eSIM, plus a battery that's capable of up to 22 hours of video playback.
It almost sounds too good to be true, so we've gone hands on with the NovaGo to see if the early signs are positive.
Asus Nova Go price and release date
Asus NovaGo (TP370) specs
Dimensions: 316 x 221.6 x 14.9mm
Weight: 1.39kg
Screen size: 13.3 inches
Screen resolution: 1920 x 1080
Chipset: Snapdragon 835
RAM: 4GB/8GB
Storage: 64GB/128GB/256GB
Battery: Up to 22 hours
The Asus NovaGo price starts at just $599 for the 4GB of RAM with 64GB of storage variant, while you're looking at $799 for the 8GB/256GB model.
Asus tells us that it will also offer a 128GB of storage option, and there may be a 6GB of RAM configuration available too, but it will vary depending on regions and what retailers want in terms of spec.
What it does mean is the Asus NovaGo is cheaper than some of the flagship Android smartphones that also feature Qualcomm's Snapdragon 835 chipset, which puts it into a reasonably affordable category.
There's currently no firm Asus NovaGo release date, but an Asus spokesperson told us that it's expected to arrive in early Spring in the US, while it's likely to arrive in Europe (the UK, France, Germany and Italy) during Q2 of 2018.
Design
Asus NovaGo hands on gallery
Image 1 of 13
Image 2 of 13
Image 3 of 13
Image 4 of 13
Image 5 of 13
Image 6 of 13
Image 7 of 13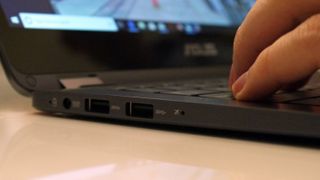 Image 8 of 13
Image 9 of 13
Image 10 of 13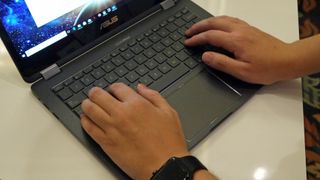 Image 11 of 13
Image 12 of 13
Image 13 of 13
Display
The Asus NovaGo features a 13.3-inch full HD display which is bright and clear thanks to the LED backlit panel, although it's not going to blow you away.
We found the screen glass to be pretty reflective, which could well cause trouble in bright light, but the 1920 x 1080 resolution is good enough for most tasks on the device, including touch screen input, text entry and even stylus usage.
Power and performance
The Asus NovaGo doesn't feature a traditional PC chipset, instead relying on Qualcomm's Snapdragon 835 SoC more commonly found in flagship smartphones such as the LG V30, HTC U11 Plus and the US variant of the Samsung Galaxy S8.
Performance then is unproven, and during our hands on time with the NovaGo we were unable to run our in-depth benchmark tests to see just how well it can do. This is something we will do during our full review of the NovaGo though, so keep an eye out for that in the coming months.
For now though, even with the top tier 8GB of RAM, we have our reservations about just how powerful this laptop can be. It's certainly not a gaming machine, as it'll likely be more at home with Solitaire rather than PUBG, but we were able to load up Word, Paint and the Edge browser without too much hassle.
What's really cool about the Snapdragon power though is the NovaGo's always-on state. If you don't shut down the device, and instead just close the lid it has a similar effect to locking your smartphone screen.
Open the lid back up, and you're instantly transported right back to where you left off. There's no loading icon or a wait while it exits hibernation – it's ready to go right away.
This is a flash hands on review to give you the chance to see what the phone is all about as soon as possible. Stay tuned as we'll be expanding and upgrading this review very shortly with more info.